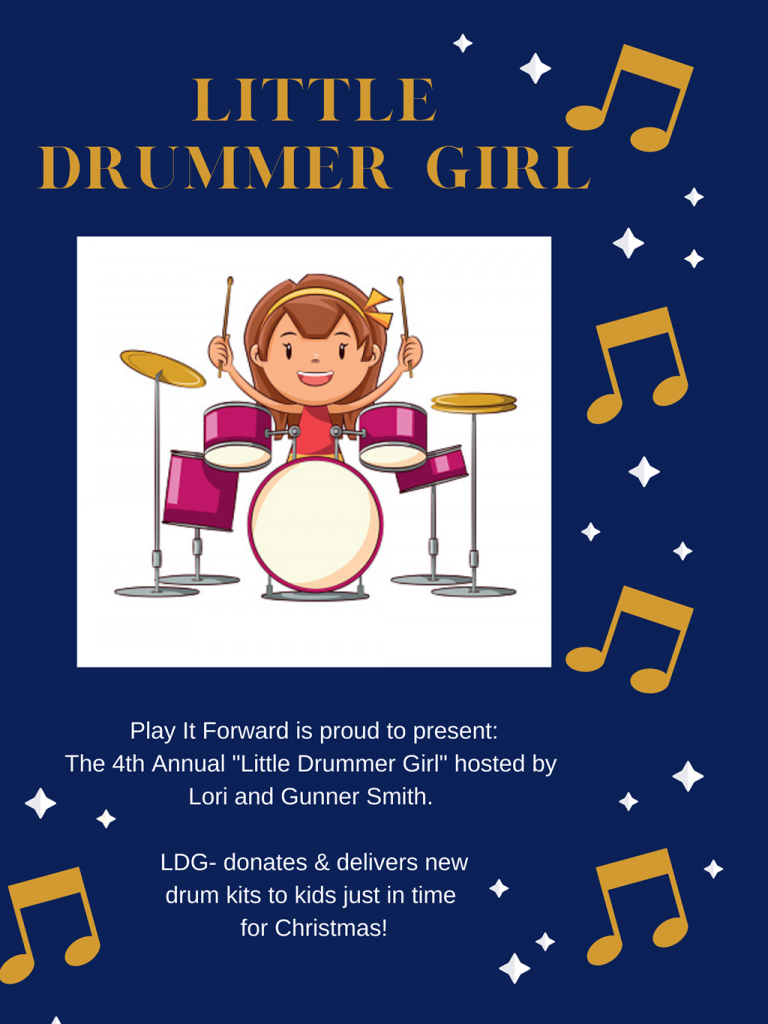 The seed for Little Drummer Girl was planted in 2013 when Lori Smith, owner of The Rock Garden Clothing & Gift Boutique, contacted Samantha about how she would like to help out in some way with PIF-STL after learning of the organization while doing a booth at a rock festival that was to benefit them that year. She was immediately inspired by their mission to put instruments in the hands of children who would not otherwise have access to them as she herself as a youth had wanted very much to learn to play an instrument and be part of the school band, but her parents just did not have the means to provide for her to do so. Struggling to take drum lessons as an adult from her fiancé, long-time drummer Gunnar Swensen, she knew the importance of learning at an early age.
Lori began making and selling bracelets made from used guitar strings and snare drum wires that she collected from musician friends and music stores with a portion of proceeds going to PIFSTL. Prior to Christmas that year, she reached out to Samantha about running a campaign to sell the bracelets and collect donations at events and in her online store to save for a drum kit to give to a little girl that year. Friends and musicians were very supportive to buy jewelry, donate money and even drum parts. A used drum kit was purchased and pieced together with donated cymbals and stands and a little love and cleaning up by Lori and Gunnar.
A recipient was located by Samantha just before Christmas, and she had siblings that PIF-STL was also able to give instruments to. Miss D, as we called her, was a joy to everyone involved! When pictures of her with her new drums were received, Lori knew she wanted to do this again, Samantha was also excited to do so, and it has become an annual project. While the bracelets have been replaced by Little Drummer Girl shirts and mugs and other items, and the recipients are mostly foster children whose faces we aren't able to see and we will never meet for their privacy and safety, Miss D will always be the face of Little Drummer Girl, the memory of her picture as she lay sleeping Christmas night, clutching her new drumsticks.