Johnnie Be Good – The Movie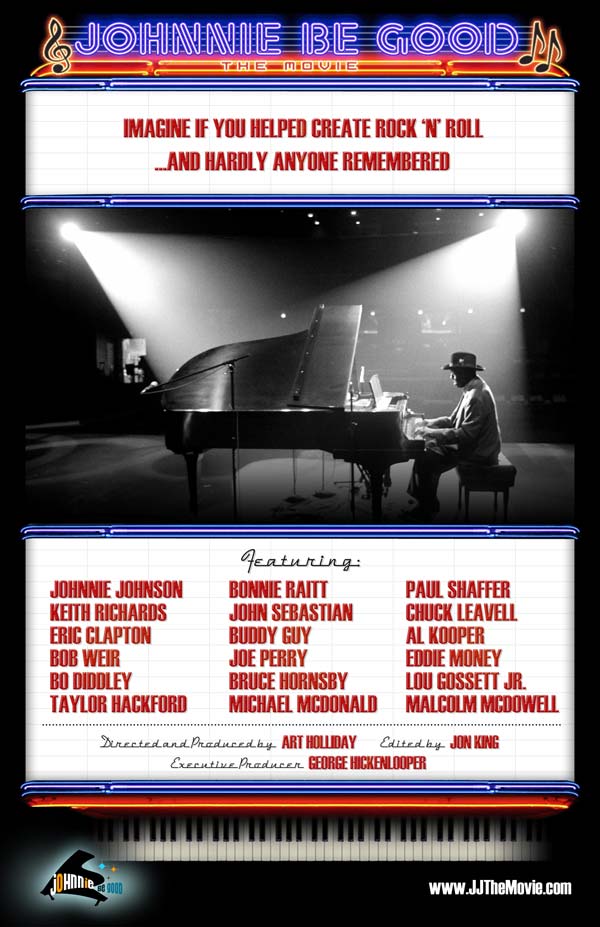 With the pending release of "Johnnie Be Good The Movie", a memorial fund in Johnnie Johnson's name will be established in benefit of "Play It Forward-STL"
On New Year's Eve 1952, band leader Johnnie Johnson hired a little known guitar player named Chuck Berry and the two men eventually became the first great song-writing team in rock and roll. JOHNNIE BE GOOD is the story of the complicated relationship between two Rock and Roll Hall Famers: Chuck Berry, the brilliant lyricist and businessman, and piano man Johnnie Johnson, a master boogie woogie and blues keyboardist, complimented each other perfectly and collaborated on hits such as "Maybellene", "Rock and Roll Music", "No Particular Place to Go", and "Roll Over Beethoven". Only Berry's name appeared on the writing credits and it will always be contested how many of Berry's songs should have been co-credited to Johnson. Not even a lawsuit settled the debate.
Watch the Preview Trailer here!
Director's Statement:
When Johnnie Johnson hired Chuck Berry in the early 1950's, St. Louis became ground zero for rock and roll in the 1950's. Any old way you use it, rock and roll music changed segregated society in the U.S. and influenced music around the world. When deciding to make JOHNNIE BE GOOD, I saw it as an opportunity to remind the world of an important chapter in St. Louis' underrated music history. The controversial song-writing relationship between two of rock and roll's architects is a great starting point for the documentary; how much credit does Johnson deserve in Berry's iconic career? Some of the biggest names in music including hall of famers Eric Clapton, Bonnie Raitt, Bob Weir, John Sebastian, Buddy Guy, and Joe Perry share their opinions. Music fans can make up their own minds.
Art Holliday
Director/Producer JOHNNIE BE GOOD
Visit JohnnieBeGoodTheMovie.com to learn more!