Liam's Christmas Guitars
In memory of Liam Terrio, each holiday season Play It Forward STL in partnership with the Terrio Family give the gift of music by donating brand new acoustic guitars and accessories to teenagers who currently reside in foster care programs. Too often these teens are overlooked during the holiday gift giving season.
In collaboration with Angel Arms, The Childrens Home and Aid Society, and One Hope United, Liam's Christmas Guitars aims to focus our intentions specifically on these children.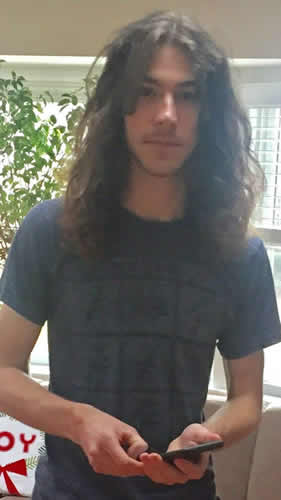 Liam was a natural born lover of music. This became apparent the day after his birth. On the way home from the hospital he was crying in the car and immediately stopped when Eric Clapton came on the radio. He really seemed to be listening intently. His first exposure to playing an instrument began in the 3rd grade when he was introduced to the recorder. He learned the instrument quickly and had perfected the entire semester's song lessons within a couple of weeks. He transitioned to the cello which he was equally adept at playing. Having his hands on strings sparked an interest in guitar which became his true love. Throughout middle school and high school he played the tenor and baritone saxophones in the concert and marching bands as well as the guitar in jazz band.
Liam began taking guitar lessons at the age of 10 and became proficient at music theory and sight reading. Within a year he was performing live with a group of friends as the opening act for the Smash Band's summer festival tour. Having the opportunity to get paid to perform in a band at such a young age sealed the deal on what he wanted out of life. He never had aspirations of being famous or getting rich. He just knew he wanted to play music for a living and continued to expand his interest by learning piano and drums. His band stayed together throughout high school perfecting their craft and getting better and better gigs.
Liam graduated high school at the age of 17 after completing his education within 3 years, and a 4.0 GPA. Afterwards he attended Southern Illinois University Edwardsville on an academic scholarship. During this time he continued to collaborate with friends, performing, writing, and recording.
Liam tragically passed away at the age of nineteen just before releasing his first solo album. He had produced a music video of the title track (Garden of Thoughts) as a teaser for the album release which he posted on YouTube just days before.