The Positive Effects of Music Education
Most of us are already aware of budget cuts in schools and lack of funding supporting arts. Music enthusiasts all over the world have developed ways to keep music a focus in school curriculum's. Here in St Louis, Play It Forward has been an excellent example of that by coming together as a music community and supporting our students locally. We share and value the importance of a young person's understanding of music composition, theories and collaboration.
Studies clearly show the benefits of music education. The problem we're facing is a lot of students are not able to purchase or rent instruments. It gets worse when the students school district cannot provide the necessary band instruments due to funding and budget cuts in the arts, but we have options and Play it forward has a solution.
The mission of Play It Forward STL is to continue to find grassroots efforts to assist our schools and our classrooms musically regardless of funding and budget cuts. With your assistance we can achieve just that!
How Arts Ed Improves Outcomes for Disadvantaged Children
The positive role of arts and music education in the healthy development of well-rounded children is something that research has proven time and time again.
It's one of the reasons advocates for maintaining and expanding access to music and art programs are in no short supply here at Play it Forward St. Louis — we're well aware of just how much engagement with the arts can do for our kids.
National Arts in Education Week, which takes place from September 12th-18th 2021, focuses on increasing awareness of the proven benefits of arts ed on the local, state, and national level. Sponsored by Americans for the Arts, the campaign encourages advocates to share their positive arts education experiences using the hashtag #BecauseOfArtsEd, and to take every opportunity to share these remarkable facts with people in positions of power.
Advocacy for arts and music programs in schools is crucial, especially for students in low-income areas where these programs are most likely to face budget cuts.
These benefits and more are chronicled in this shareable infographic from We The Parents, perfect for advocacy efforts during National Arts in Education Week. You can also learn more about the benefits of music education here on our website.

---
Science Just Discovered Something Amazing About What Childhood Piano Lessons Did to You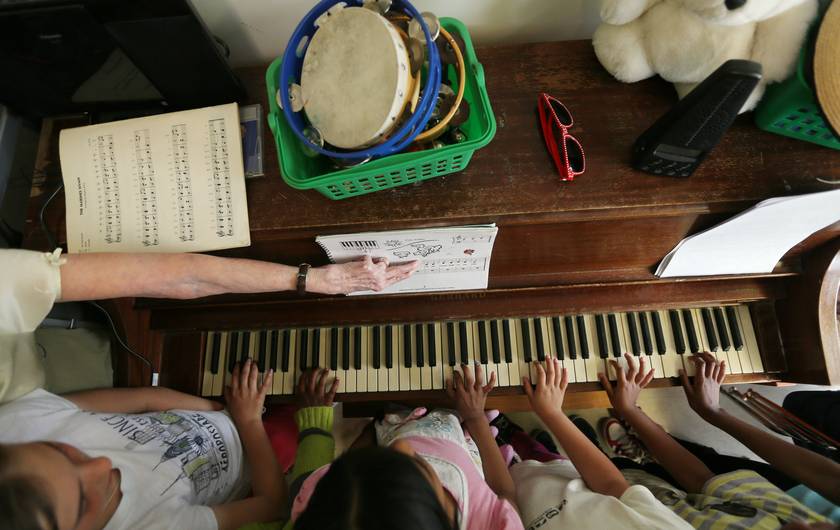 If your parents forced you to practice your scales by saying it would "build character," they were onto something. The Washington Post reports that one of the largest scientific studies into music's effect on the brain has found something striking: Musical training doesn't just affect your musical ability — it provides tremendous benefits to children's emotional and behavioral maturation.
The study by the University of Vermont College of Medicine found that even those who never made it past nursery rhyme songs and do-re-mi's likely received some major developmental benefits just from playing. The study provides even more evidence as to why providing children with high-quality music education may be one of the most effective ways to ensure their success in life.
The study: James Hudziak and his colleagues analyzed the brain scans of 232 children ages 6 to 18, looking for relationships between cortical thickness and musical training. Previous studies the team had performed revealed that anxiety, depression, attention problems and aggression correspond with changes to cortical thickness. Hudziak and his team sought to discover whether a "positive activity" like musical training could affect the opposite changes in young minds.
"What we found was the more a child trained on an instrument," Hudziak told the Washington Post, "it accelerated cortical organization in attention skill, anxiety management and emotional control."
The study found increased thickness in parts of the brain responsible for executive functioning, which includes working memory, attentional control and organizational skills. In short, music actually helped kids become more well-rounded. Not only that, they believe that musical training could serve as a powerful treatment of cognitive disorders like ADHD.
We need this sort of proof now more than ever. In presenting their findings, the authors reveal a terrifying truth about the American education system: Three-quarters of high school students "rarely or never" receive extracurricular lessons in the music or the arts. And that's depriving kids of way more than just knowing an instrument.
School systems that don't dedicate adequate time and resources to musical training are robbing their kids of so much. Prior research proves that learning music can help children develop spatiotemporal faculties, which then aid their ability to solve complex math. It can also help children improve their reading comprehension and verbal abilities, especially for those who speak English as a second language.
In these ways music can be a powerful tool in helping to close the achievement gaps that have plagued American schools for so long. It's even been shown that children who receive musical training in school also tend to be more civically engaged and maintain higher grade-point averages than children who don't. In short, musical education can address many of the systemic problems in American education.
Hudziak's research is an important addition to the field because it shows that music helps us become better people, too. One thing is clear: Learning music is one of the best things a person can do. Who knows — running scales may have changed your life. And it could change the lives of future generations too.
Link to Article on Mic.com written by Tom Barnes
---
20 Important Benefits of Music In Our Schools
Nearly everyone enjoys music, whether by listening to it, singing, or playing an instrument. But despite this almost universal interest, many schools are having to do away with their music education programs. This is a mistake, with schools losing not only an enjoyable subject, but a subject that can enrich students' lives and education. Read on to learn why music education is so important, and how it offers benefits even beyond itself.
1. Musical training helps develop language and reasoning: Students who have early musical training will develop the areas of the brain related to language and reasoning. The left side of the brain is better developed with music, and songs can help imprint information on young minds.
2. A mastery of memorization: Even when performing with sheet music, student musicians are constantly using their memory to perform. The skill of memorization can serve students well in education and beyond.
3. Students learn to improve their work: Learning music promotes craftsmanship, and students learn to want to create good work instead of mediocre work. This desire can be applied to all subjects of study.
4. Increased coordination: Students who practice with musical instruments can improve their hand-eye coordination. Just like playing sports, children can develop motor skills when playing music.
5. A sense of achievement: Learning to play pieces of music on a new instrument can be a challenging, but achievable goal. Students who master even the smallest goal in music will be able to feel proud of their achievement.
6. Kids stay engaged in school: An enjoyable subject like music can keep kids interested and engaged in school. Student musicians are likely to stay in school to achieve in other subjects.
7. Success in society: Music is the fabric of our society, and music can shape abilities and character. Students in band or orchestra are less likely to abuse substances over their lifetime. Musical education can greatly contribute to children's intellectual development as well.
8. Emotional development: Students of music can be more emotionally developed, with empathy towards other cultures They also tend to have higher self esteem and are better at coping with anxiety.
9. Students learn pattern recognition: Children can develop their math and pattern-recognition skills with the help of musical education. Playing music offers repetition in a fun format.
10. Better SAT scores: Students who have experience with music performance or appreciation score higher on the SAT. One report indicates 63 points higher on verbal and 44 points higher on math for students in music appreciation courses.
11. Fine-tuned auditory skills: Musicians can better detect meaningful, information-bearing elements in sounds, like the emotional meaning in a baby's cry. Students who practice music can have better auditory attention, and pick out predictable patterns from surrounding noise.
12. Music builds imagination and intellectual curiosity: Introducing music in the early childhood years can help foster a positive attitude toward learning and curiosity. Artistic education develops the whole brain and develops a child's imagination.
13. Music can be relaxing: Students can fight stress by learning to play music. Soothing music is especially helpful in helping kids relax.
14. Musical instruments can teach discipline: Kids who learn to play an instrument can learn a valuable lesson in discipline. They will have to set time aside to practice and rise to the challenge of learning with discipline to master playing their instrument.
15. Preparation for the creative economy: Investing in creative education can prepare students for the 21st century workforce. The new economy has created more artistic careers, and these jobs may grow faster than others in the future.
16. Development in creative thinking: Kids who study the arts can learn to think creatively. This kind of education can help them solve problems by thinking outside the box and realizing that there may be more than one right answer.
17. Music can develop spatial intelligence: Students who study music can improve the development of spatial intelligence, which allows them to perceive the world accurately and form mental pictures. Spatial intelligence is helpful for advanced mathematics and more.
18. Kids can learn teamwork: Many musical education programs require teamwork as part of a band or orchestra. In these groups, students will learn how to work together and build camaraderie.
19. Responsible risk-taking: Performing a musical piece can bring fear and anxiety. Doing so teaches kids how to take risks and deal with fear, which will help them become successful and reach their potential.
20. Better self-confidence: With encouragement from teachers and parents, students playing a musical instrument can build pride and confidence. Musical education is also likely to develop better communication for students.
Link to Article at National Association for Music Education
---
Learning Music Facilitates Learning Other Subjects and Enhances Skills
Whether your child is the next Beyonce or more likely to sing her solos in the shower, she is bound to benefit from some form of music education. Research shows that learning the do-re-mis can help children excel in ways beyond the basic ABCs.
Research has found that learning music facilitates learning other subjects and enhances skills that children inevitably use in other areas. "A music-rich experience for children of singing, listening and moving is really bringing a very serious benefit to children as they progress into more formal learning," says Mary Luehrisen, executive director of the National Association of Music Merchants (NAMM) Foundation, a not-for-profit association that promotes the benefits of making music.
Making music involves more than the voice or fingers playing an instrument; a child learning about music has to tap into multiple skill sets, often simultaneously. For instance, people use their ears and eyes, as well as large and small muscles, says Kenneth Guilmartin, cofounder of Music Together, an early childhood music development program for infants through kindergarteners that involves parents or caregivers in the classes.
Visit www.pbs.org to learn more!
---
The Role of Music Study on Cognition
Children exposed to a multi-year programme of music tuition involving training in increasingly complex rhythmic, tonal, and practical skills display superior cognitive performance in reading skills compared with their non-musically trained peers, according to a study published in the journal Psychology of Music.
According to authors Joseph M Piro and Camilo Ortiz from Long Island University, USA, data from this study will help to clarify the role of music study on cognition and shed light on the question of the potential of music to enhance school performance in language and literacy.
Studying children the two US elementary schools, one of which routinely trained children in music and one that did not, Piro and Ortiz aimed to investigate the hypothesis that children who have received keyboard instruction as part of a music curriculum increasing in difficulty over successive years would demonstrate significantly better performance on measures of vocabulary and verbal sequencing than students who did not receive keyboard instruction.
Several studies have reported positive associations between music education and increased abilities in non-musical (eg, linguistic, mathematical, and spatial) domains in children. The authors say there are similarities in the way that individuals interpret music and language and "because neural response to music is a widely distributed system within the brain…. it would not be unreasonable to expect that some processing networks for music and language behaviors, namely reading, located in both hemispheres of the brain would overlap."
Visit www.sciencedaily.com to learn more!
---
Music-making Improves Test Scores in Standardized Tests
A 10 year study involving 25,000 students show that music-making improves test scores in standardized tests, as well as in reading proficiency exams (Source: James Catterall, UCLA, 1997).
High school music students score higher on the math and verbal portion of SAT, compared to their peers (Profile of SAT and Achievement Test Takers, The College Board, compiled by Music Educators Conference, 2001).
The IQ's of young students who had nine months of weekly training in piano or voice rose nearly three points more than their untrained peers (Study by E. Glenn Schellenberg, of the University of Toronto at Mississauga, 2004.)
Piano students can understand mathematical and scientific concepts more readily. Children who received piano training performed 34 percent higher on tests measuring proportional reasoning – ratios, fractions, proportions, and thinking in space and time (Neurological Research, 1997).
Visit www.raisesmartkid.com to learn more!
---
Intrinsic Value of the Arts
To put it simply, we need to keep the arts in education because they instill in students the habits of mind that last a lifetime: critical analysis skills, the ability to deal with ambiguity and to solve problems, perseverance and a drive for excellence. Moreover, the creative skills children develop through the arts carry them toward new ideas, new experiences, and new challenges, not to mention personal satisfaction. This is the intrinsic value of the arts, and it cannot be overestimated.
---
John Kerry on Music Education
"We know that children who learn music are better equipped for success in life. Music education enriches children's lives by helping them develop a sharp mind, abstract reasoning skills, and self-confidence as they grow into adults. Along with giving children a positive outlet for their energy, music education helps keep our young people on track, out of trouble and in school. Music education is an invaluable and essential part of education for young people, and investing in it is good for our kids, our schools, and our communities."
---
Ted Turner on Music Education
"Music has a great power for bringing people together. With so many forces in this world acting to drive wedges between people, it's important to preserve those things that help us experience our common humanity."
Ted Turner on Music Education
---
The Benefits of Educational Music for Kids
Children who receive early music training score higher on standardized tests.
The use of music during learning can increase a child's IQ.
Young children who take music lessons show different brain development and improved memory over the course of a year compared to children who do not receive musical training.
There is a link between spatial reasoning and participation in music and movement activities.
For more information on music education for kids: http://www.articlesbase.com/education-articles/kids-music-the-benefits-of-educational-music-for-kids-1282127.html