Joe Barksdale of the St Louis Rams at KIPP Inspire Academy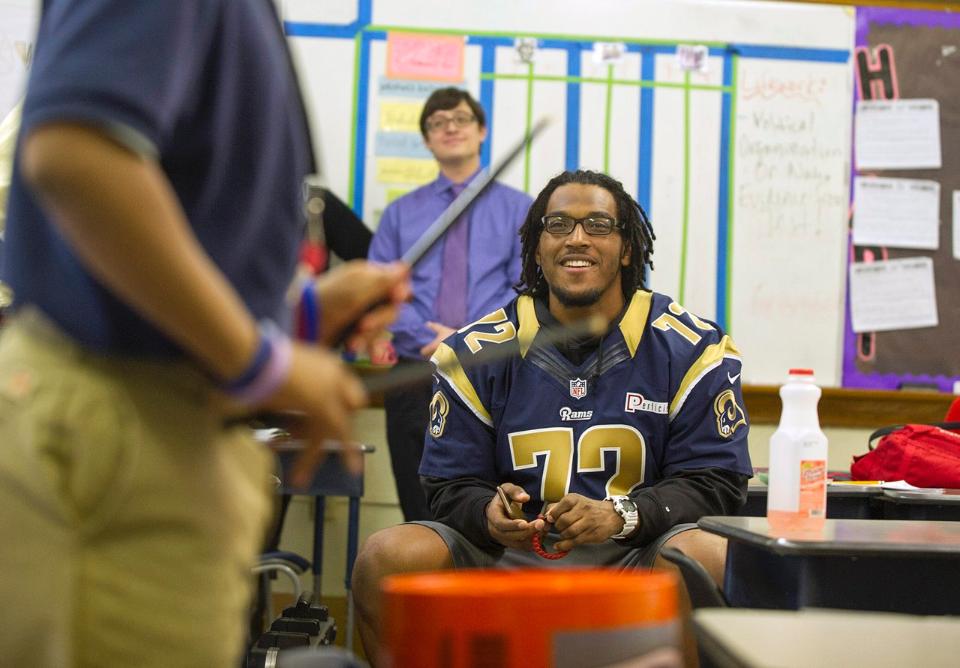 Although new to the guitar, Rams offensive tackle Joe Barksdale already has a favorite song to play, and with much excitement, eight KIPP Inspire Academy middle school students practiced the rhythm. The buckets they played echoed sounds through the hallway. After practicing, their instructor David D'Antonio started a freestyle rap battle. This is what Joe Barksdale heard as he walked through the door. As soon as the students realized who he was, gasps and comments such as, "He's 7-feet tall," filled the classroom.
Barksdale partnered with Play it Forward – St. Louis for the chance to collaborate with kids who love music. Play it Forward is an organization that donates instruments to children and schools that cannot afford the cost of musical instruments. Their mission is to help children discover their musical talents. The partnership between Play it Forward and Barksdale was fitting due to his love of the guitar, the mission of the organization, and the love that the kids have found for playing the drums.
"The fact that we can cross over any kind of sports and music in the city of St. Louis really excites me," said Samantha Fisher, founder and director of Play it Forward. "It's not often that we see a professional sports player crossing over into music. Everyone is a fan of music, but not everyone can perform sports. To bring the two together in this fashion for these young people, it's a beautiful thing."
"I love music, so it was kind of a natural thing," said Barksdale, as he explains his partnership with Play it Forward. "Anytime you can see kids [play], especially kids that haven't been playing that long, it's a great thing to see."
Barksdale was invited to sit down to hear what the kids have been learning in class. He may have been just as excited to hear the students play as they were excited to play for him.
KIPP Inspire Academy added the drum corps extracurricular class, held four days a week after school, to its curriculum in August. David D'Antonio, a 5th grade Social Studies teacher and instructor of the drum corps class at KIPP Inspire Academy, is a drummer who played in a band. D'Antonio had the idea to help bring the same love of music to his students. For 10 weeks his students have been learning how to play the drums by using buckets.
"The bucket art is unbelievable, but in reality, to take them to the next level they need the equipment," explained Fisher.
Through donations to Play it Forward, the program was able to provide KIPP Inspire Academy with five snare drums for the drum corps program. The students used these drums for the first time while collaborating with Barksdale to play one of his favorite songs, "Sunshine of Our Love" by Cream.
"We have so much to work with," explains D'Antonio. "It gives actual materials to these kids. They can learn professionally how to develop these great skills they can use for many reasons: from joy, to getting a scholarship, to whatever they decide to do with music."
KIPP Inspire Academy, a charter middle school in the south city of St. Louis, commits to preparing their students to succeed in high-quality high schools and colleges.
"It's all about getting kids high quality education, but also about getting them experiences that show them that they're so much more than others would make them out to be," said Reid Simpson, assistant principle at KIPP Inspire Academy. "Anytime that I can put a student in front of any person that shows practice and dedication is the key to success, I'll do it! I'll go to any lengths. I guarantee that those eight students that got to play with Joe Barksdale will never forget that opportunity and they will never settle for anything less than anything they are capable of."
After their jam session, the kids received a chance to ask Barksdale questions about his musical talents and life. From their talk, Barksdale hopes the students are able to relate their musical experiences with their everyday life.
"We talked about how sometimes things can get difficult, as far as learning how to play the drums, getting frustrated and wanting to give up. I want them to know that anything is possible if you just persevere and stay through the hard times."
"In the context of the kids that we serve and the context of everything happening in St. Louis right now, it's amazing that we had this opportunity," explains D'Antonio. "This is a dark time for St. Louis, and yet there is a light all around us that we just really have to look for. It's someone coming out of his everyday career in the NFL and taking the time out to hang with kids and be a source of hope. It reminds us all that there's hope around us. Given this opportunity will hopefully reinforce the kids' passion for music. This will be a moment they will never forget."
[Written by Jasmine Brown, Re-posted from http://www.stlouisrams.com/news-and-events/article-1/Joes-Jam-Session/49d9cf22-3d44-45af-8e7b-3c0f3bef1246]